March 17: Annual Meeting

Please plan to attend on Sunday, March 17 and be ready for the 2013 annual meeting. The meeting will begin immediately following the 10:00 a.m. service, which will be the only service that day.
It's sooner than you think!
Time for Easter flower dedications
Every Easter, Holy Trinity decorates the church with flowers paid with memorial donations from parishioners, brightening the atmosphere and adding to the joy of our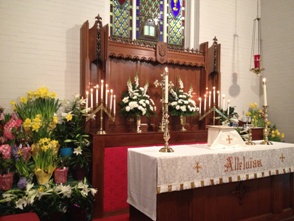 celebration. As we did last year, instead of only using white lilies, we will be using an assortment of colored flowers like azaleas, hydrangeas, lilies, freesias, etc., to give the church the feeling of an 'inside garden.' After Easter, we will be planting these on the grounds around the church. The Altar Guild will be collecting $20 donations, and including tributes in the Easter service bulletins acknowledging contributions for loved ones or for other celebrations/thanksgivings. You can email us with the dedications.
Payment will be due to the Altar Guild by March 24, Palm Sunday; you are welcome to put the check or cash in the collection plate during services. Each donation will be $20. Please make checks payable to Holy Trinity Episcopal Church; in the memo field indicate 'Altar Guild, Easter flowers' .
This is a lovely way to honor and remember our family, friends and faith as well as to adorn our sanctuary during the Easter season.
Be sure to check the online calendar each week.